Heating and Cooling Repair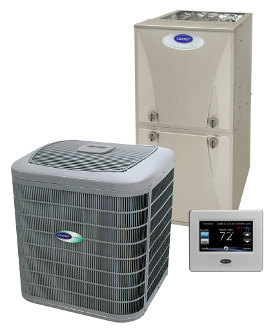 Proficient Heating & Cooling is a family owned and operated heating and cooling repair company. We service all makes and models of furnaces, air conditioning systems, whole house humidifiers, well pumps, copper piping and so much more. HVAC is what we do! We promise to provide friendly, honest service! We only have your satisfaction in mind when we're on our service calls. Let us know what you need and we will do our best to satisfy all of your heating and cooling needs!
Heating and Cooling
We sell and service most brands of heating and cooling products. Brands such as Bryant, Carrier, Aprilaire, Honeywell, Payne and many more. We are a Bryant dealer so we can not only provide a great new furnace or air conditioner unit but we can offer some of the lowest prices in town on these quality heating and cooling products. See our HVAC coupons for an even better deal on our products.
Heating and Air Conditioning Service
Proficient Heating and Cooling is a residential and commercial heating and cooling contractor. Whether it's your home or business, we can service all of your HVAC needs. Our service is high end, our products are high quality but our prices are low and competitive.
Heating and Air Repair
Our heating and air repair services are second to none. Fast, friendly and reliable heating and air repair services is what we promise to provide to all of our customers. Proficient Heating and Cooling specializes in heating system repair and central air conditioning system repair.
Heating and Cooling Services
Proficient Heating and Cooling offers preventative maintenance programs as well. Keeping your heating and cooling appliances running smoothly and efficiently takes some maintenance work. Most home owners just let their furnaces and air conditioners run until something goes wrong. This can be more costly to repair than if you had been keeping your systems in peak running condition. Not only can repairs cost more but having your furnace go out in the dead of winter can be very inconvenient. Proficient Heating & Cooling has maintenance programs that will keep your heating and cooling systems working at their peak performance thereby saving you time and money in the long run. Call Proficient Heating and Cooling today to inquire about our affordable heating and cooling maintenance programs.
Heating Contractors
Finding a reliable heating contractor can be daunting sometimes. Proficient Heating & Cooling has years and years of heating and cooling services experience. Our customers tell us everyday how satisfied they are with our personal service and pricing. See our testimonials page and see what our customers are saying about us!
Call Proficient today for all of your heating and cooling repair issues! 734-620-9580