AC Repair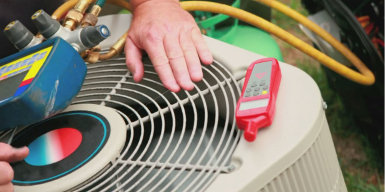 Proficient Heating & Cooling Company specializes in the repair of air conditioning units. One of the worst things that can happen in the summer is when it's very hot out and your air conditioning unit goes down. Some of those hot, humid Michigan summer nights and be miserable. Let Proficient Heating & Cooling take care of your ac repair problems. With over 27 years of HVAC experience in the AC repair business, Proficient will come out to your home, access the problem and quickly and efficiently fix any and all problems you may have with your air conditioning unit.
Air Conditioning Service
Proficient Heating & Cooling is a full service AC repair company. We service most makes and models of air conditioning units. We carry a wide array of replacement AC parts and should be able to repair most air conditioning units while we're at your home. If we don't carry the part and it is a hard to find replacement part, Proficient Heating & Cooling will do our best to locate the part and service your air conditioner in a timely manner. Getting your AC unit up and running is our main priority and we aim to please.
AC Replacement
If, while we're at your home, we find that the air conditioner is too old or too expensive to repair, we can recommend a first class AC replacement unit. We carry only top quality AC units. Brands such as Bryant and Carrier. We can provide a top notch new air conditioning unit and install it for you for a very competitive price. Your satisfaction is our goal! Proficient Heating & Cooling can either repair or replace your current air conditioner at very competitive prices.
Air Conditioning Services
Not only does Proficient Heating & Cooling handle AC repair and AC replacement but we can also provide AC maintenance. One way to ensure long life for your air conditioning unit is to properly maintain you AC unit. Proper cleaning, maintenance and even Winter covering can do wonders for the longetivity of your central air conditioner. A properly maintained air conditioner will save money on your energy bills. So save money and let Proficient Heating and Cooling help you with your air conditioning services.
A C Repair
Call Proficient today for all of your ac repair issues! 734-620-9580