AC Repair and Furnace Repair Northville MI

Updated October 14th, 2023
Proficient Heating & Cooling sells and services all makes and models of furnaces, central air conditioning units, whole house humidifiers, thermostats and more! With over 27 years of experience in furnace repair, ac repair, HVAC repair, furnace installation and other HVAC services, Proficient Heating and Cooling will do the job right. Our factory trained and certified HVAC technicians can help you make the right choice when it comes to any heating and cooling system. Proficient Heating and Cooling can either repair your old inefficient furnace and air conditioning unit or install a brand new, high efficiency model. We value our customers in the Northville MI area and promise competitive pricing, integrity and reliability in all of our HVAC services.
Proficient Heating and Cooling provides residential and commercial heating and cooling repair services in Northville MI.


AC Repair Northville MI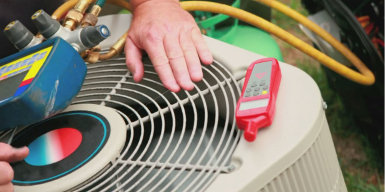 As the hot summer months arrive, don't get caught with a central air conditioning unit that doesn't work or is low efficiency. The cost of energy only goes up and Proficient Heating and Cooling has the right product for you. Today's best air conditioning units use 30% to 50% less energy than air conditioning units made in the mid 1970s. If you have a 10 year old ac unit, you can still save up to 40% of your cooling energy costs just by replacing your old, inefficient model with a newer, more efficient model. Proficient Heating and Cooling provides high quality, high efficiency ac units from Bryant, Payne or Carrier all at unbeatable pricing.
AC repair and ac replacement are core services here at Proficient Heating & Cooling and we aim to please all of our customers that live in Northville MI. We carry a large assortment of replacement ac parts and will be able to repair your central air conditioning unit efficiently thereby saving you money. If you have a hard to find situation, we will go the extra mile to find the correct ac replacement parts and get your HVAC equipment up and running as quickly as possible.
We offer free installation estimates, quick response times and personalized friendly service for Northville MI.
Furnace Repair Northville MI
Furnace replacement and furnace repair is another core service at Proficient Heating & Cooling. We provide 95% high efficiency furnaces at a very competitive price. We are a Bryant dealer so we can purchase and install Bryant furnaces at a substanially lower price than our competitors. Low price and high quality is what we do here at Proficient Heating and Cooling. Our certified furnace technicians can help you along the way. From the selection of just the right furnace for your home to the installation, we will insure that you have made the correct decision. Let our furnace repair and replacement professionals service your HVAC needs in Northville MI.
Older furnaces can waste as much as 30% of the energy used to create heat in your home. A new, high efficiency furnace will waste only 5% or less! Just this savings alone will allow your new furnace to pay for itself in a short time. Along with wasted energy and money, older furnaces can pump over 4 tons of greenhouse gases into the air every year. Fact is, if you have an older furnace, it's probably only producing about half of the heat it could be producing with the same amount of fuel. Proficient Heating and Cooling can help you with this. Get a new, high efficiency furnace today!
HVAC Repair Northville MI
HVAC stands for heating, ventilating and air conditioning. It's the process that's based on thermodynamics, fluid mechanics and heat transfer. HVAC repair is the term used for systems that provide thermal control and indoor comfort. From residentail homes to large commercial buildings. Proficient Heating and Cooling has the expertise to handle all HVAC jobs, big or small. Included in our HVAC repair services is: heating and cooling repair, ac replacement, whole HVAC systems, furnace repair and replacement, duct work and more.
We also offer maintenance agreements for furnaces and central air conditioning systems as part of our complete HVAC repair services. We offer a couple different plans. Residential and commercial. These HVAC maintenance plans are designed to help you keep your HVAC systems working efficiently and for the long term. These plans can be critical to extending the life of your furnace and ac units. The heating and cooling systems in your house demand regular maintenance and cleaning. Call today to inquire about the plan that is best for you.
Heating and Cooling Repair Northville MI
Heating and cooling repair covers the process of repairing your existing furnace or central air conditioner. If you don't need a new heating or cooling system but your current systems are running poorly or not at all, Proficient Heating and Cooling can travel out to your home, access the situation and perscribe the correct fix for your particular problem. Our factory trained HVAC technicians will correctly diagnose your problem and give you a price on what it will cost to get your furnace or air conditioner up and running.
New furnaces, air conditioning units and humidifiers!
We sell high quality, high efficiency new furnaces and ac units. Our prices are very competitive and our installation services are second to none. With over 27 years of experience in the HVAC industry, Proficient Heating & Cooling can provide superior sales and service to all of our clients in the Northville and all of the surrounding areas. See our testimonials page.
One-Hundred Percent Customer Satisfaction is always our #1 Goal!
Call Today! 734-620-9580